Policies, Procedures, Certificates and Forms
Here's a collection of Education Destination Policies, Procedures, Certificates and Forms all in one place for ease of download.
All policies and procedures are updated on a regular basis, and insurances etc. renewed before or upon expiry. The latest versions will always be found here, in alphabetical order.
If you are looking for documentation for a particular venue, you will find these on the individual Venue Pages
Something missing?
Ask Us!
---
Booking Terms and Conditions
Our standard terms and conditions for residential visits. These may be customised to suit a particular itinerary but form the basis of our contract with you.
Download
Child Protection Policy
Our company's Child Protection Policy followed by all staff who come into contact with minors and vulnerable adults during their work.
Download
Environmental Policy
Our company's Environmental Policy followed by all staff.
Download
Financial Failure Insurance Policy
This document confirms the provision of Financial Failure Insurance for all Education Destination clients. The policy covers your deposits, payments and repatriation costs in the event of the insolvency of Education Destination Ltd. after booking, satisfying our obligations under the Package Travel, Package Holidays and Package Tours Regulations 1992.
Should your LEA insist that schools utilise "bonded" operators, we can arrange for our partner Red Funnel Ferries (ABTOT bonded) to act as Principal at a small additional cost.
Download
Health & Safety Consultancy
Confirmation of our appointment of external qualified Health & Safety advisors
Download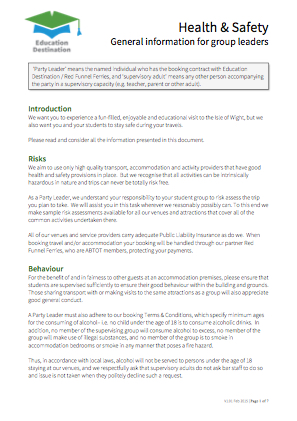 Health & Safety General Information
Issued to all our group leaders as guidance.
Download
Health & Safety Policy
Our company's Health & Safety policy
Download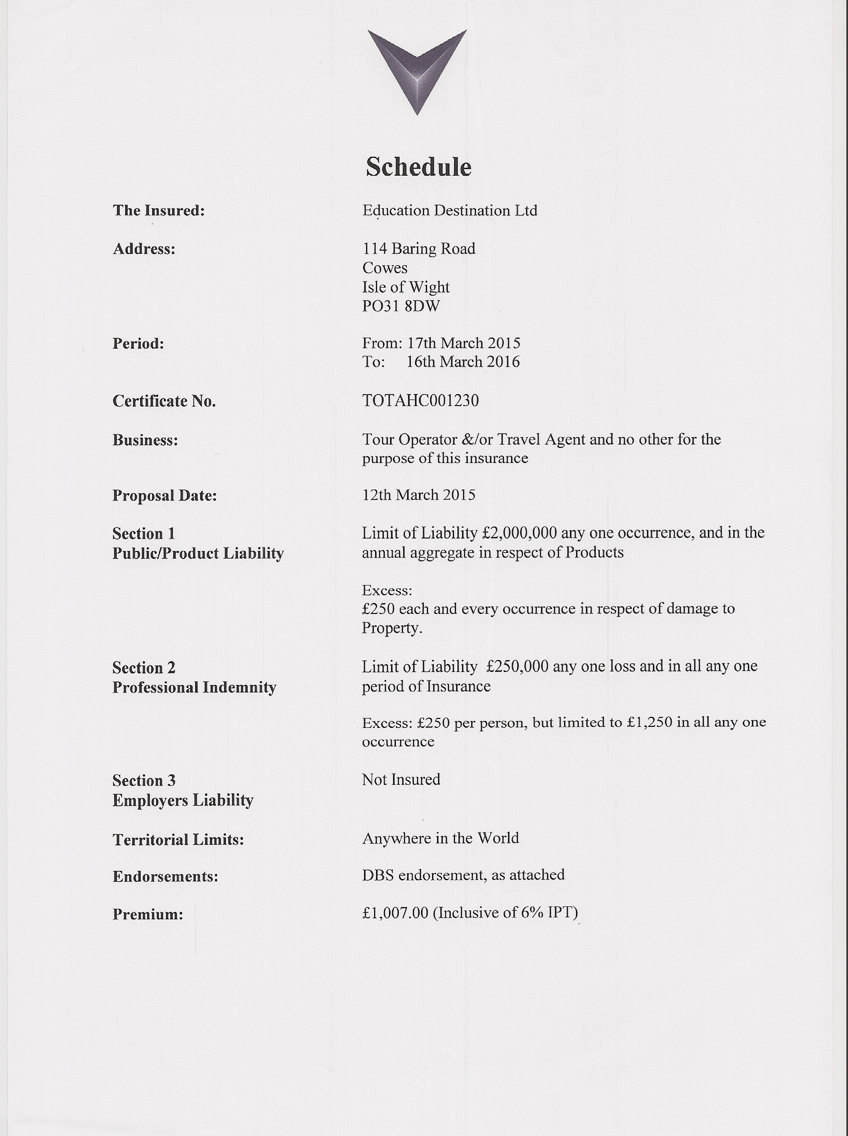 Insurance - Professional Indemnity Insurance (PI), Public and Products Liability Insurance (PLI)
Our current company policy
Download
Privacy Policy
Details of our website privacy and cookie policies.
Download
Safety Management System for Residential Visits
Offered as an aide memoire for first time Visit Leaders or a refresher for more experienced teachers, this document describes the elements making up a typical safety management system for residential school trips.
It also highlights the steps taken by Education Destination to significantly reduce the amount of administration time needed as well as reducing the necessity to undertake pre-visit trips.
Download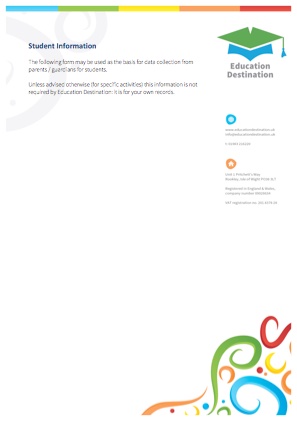 Student Information Data Collection Form (Sample)
A helpful data collection sheet that visit leaders may wish to use to collect detailed information from parents ahead of residential visits.
Free to edit and use (Microsoft Word format).
View
Download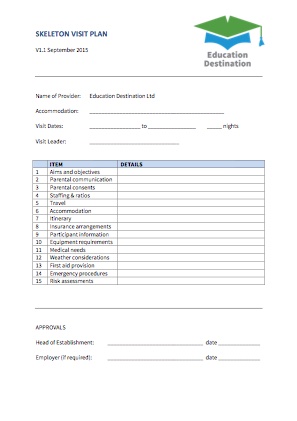 Visit Plan Skeleton & Sample
A template for a Visit Plan including a worked example.
Free to edit and use (Microsoft Word format).
View
Download